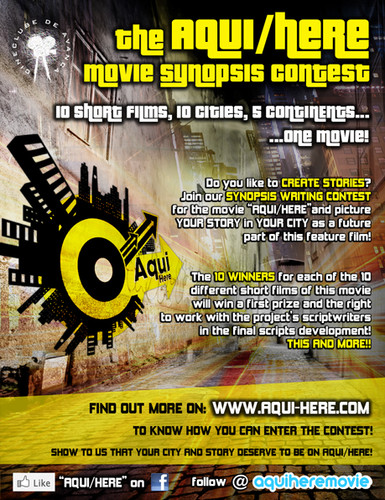 Film Synopsis Contest about Public Space & Cities (Aqui!Here!)
Aqui/Here" is a cinematographic project led by Cine Clube de Avanca (one of the oldests amateur filmmaking club of Portugal) and Amigos d'Avenida (city civic group from Aveiro, Portugal).
Based on the Manifesto for the Public Space's ten principles (
http://www.aqui-here.com/images/pdf/manifesto-en.pdf
), ten short films will be developed in ten cities from the five continents.
Join the official Synopsis Contest for the movie "Aqui/Here" and picture YOUR STORY in YOUR CITY as a future part of this film project!
Choose one of the 10 "Manifesto for the Public Space"' points and write a synopsis idea for a short-film script with YOUR CITY as the background for your story.
10 Winners in each of the 10 short-films will win a first prize and work with the scriptwriter in the final scripts development!
DEADLINE: June 11th 2011
More information in
http://www.aqui-here.com/
'Aqui!/Here!' Synopsis Contest
Facebook Page
https://www.facebook.com/pages/AquiHere/162554620469427?sk=wall
Site
http://www.aqui-here.com/
Cine Clube de Avanca
http://ccavanca.blogspot.com/
Amigosd'Avenida
http://amigosdavenida.blogs.sapo.pt/